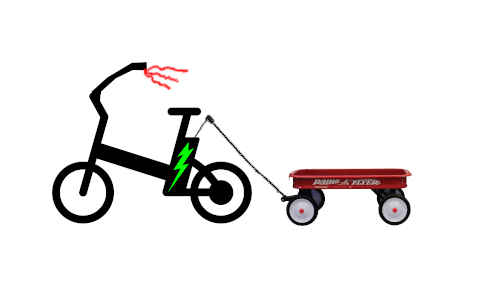 The Slow Decline of Two Famous Brands
Demographics have been causing the slow death of 2 very famous brands. Radio Flyer and Harley-Davidson. Now they are reacting, and maybe it won't be too little too late for them. Here's the story and a small dose of innovation theory for you to implement in your business.
Radio Flyer for 100 years has been famous for its little red wagons. Since before the Great Depression, children have enjoyed these wagons (and scooters, etc.) for recreation. But family formation has fallen precipitously the last decade, and the birth rate has fallen even faster. Further, lots of competitors have entered the market for small pull wagons and scooters. The net impact is fewer babies, and a big drop in demand for the traditional metal wagons. For a company manufacturing in Chicago, it looked like another slow slide into irrelevancy and failure.
But now, Radio Flyer has announced its new e-bike and e-scooter products. This opens the door to an entirely new market and new customers. People of all ages have started purchasing e-bikes. They ride for pleasure, to run errands and even commuting. In some cities, electric scooter ride sharing rentals have soared faster than bicycle rentals. Sales have skyrocketed. Seeing the underlying trend in demographics, and the changing consumer behavior Radio Flyer is entering the market with new products – priced squarely in the market sweet spot – which just might make the company relevant again.
An even older company is Harley-Davidson. For years, Harley has dominated the market for large engine cruiser style motorcycles. In the 1970s and 1980s, this served the company well as motorcycle sales grew and customers would up-size to Harley bikes from smaller Japanese manufacturers. But the brand image wore old a long time ago. Images of "Hells Angels", "Easy Rider" and accountants turned HOG (for Harley Owners Group) were not attractive to younger buyers. The average age of Harley buyers kept rising, until now it is almost 60 years old! The reality is that Harley's market simply started dying off, aging out of buying new motorcycles (or any motorcycle for that matter.) And younger buyers were far less interested in the old-style cruiser in favor of the smaller sized, easier handling and mostly faster sport bikes made in Japan.
For years Harley-Davidson ignored the demographic trends and the impact on its business. Harley made an effort to update its product, and image, introducing the V-Rod with a Porsche manufactured engine. But dealers didn't like it, and Harley never put in the promotion to bring in the new, younger rider the bike was designed to attract. Now, Harley-Davidson has launched its own e-bike, called the Serial 1. At $5,000 it's a top-priced e-bike, I guess aligned with the company reputation for premium pricing. But the Serial 1 has garnered good reviews, and like the Radio Flyer e-bike it gives Harley a new technology and a new market with new customers. And most important, a chance to slow its slide into irrelevancy.
Will these products turn these companies around?
It's hard to say. They aren't creating a new market like Netflix did in streaming, or Apple did with apps on iPhones. They aren't early to market. One could say they are a late entry into a crowded marketplace. And neither appear to be introducing any new technology, or enhanced functionality not already available. And the brands are outdated, loaded with nostalgia – which might be good, or bad. But at least they are reacting to trends.
Innovation Theory in Practice
Both Radio Flyer and Harley-Davidson have responded to trends by introducing electric personal transportation products. Both also have loyal core customer segments and strong brand awareness in non-customer segments. The new products allow both companies to launch to existing customers which is the lowest risk choice because the segments are well-known. From there, the brands can expand to new customer segments via word-of-mouth, visibility and ad campaigns. This follows the Ansoff matrix from Current Market/New Product to New Market/New Product.
The second issue is that the market for electric personal transportation is past Early Adopters and into the Growth stage which is when new brands jump in and the market starts to fragment. There is plenty of market share for both Radio Flyer and Harley-Davidson to become established. One key question is- Can these brands offer the products and brand desire to make the jump to segments of new customers?
Are the Brands Structured to Succeed?
To succeed, they must COMMIT resources and focus to these new markets, and create new developments. I wish they would have launched with White Space teams that had permission to develop a new brand image, new distribution, new ad campaigns – an entirely new approach designed to seek out market leadership. Harley-Davidson did create a version of a "skunkworks" with the spinoff of Serial 1, LLC. For now the PR sounds more like they are doing it "on the sly" as something they aren't really sure will succeed. So it's really up to senior leadership now. They either commit to a new future allowing product teams to build on the e-bike opportunity to develop new technology, new customers and new markets – or they can slip back into the slide downward. We'll have to wait and see if they can jump the re-invention gap.
---
Did you see the trends, and were you expecting the changes that would happen to your demand? It IS possible to use trends to make good forecasts, and prepare for big market shifts. If you don't have time to do it, perhaps you should contact us, Spark Partners.  We track hundreds of trends, and are experts at developing scenarios applied to your business to help you make better decisions.
TRENDS MATTER. If you align with trends your business can do GREAT! Are you aligned with trends? What are the threats and opportunities in your strategy and markets? Do you need an outsider to assess what you don't know you don't know? You'll be surprised how valuable an inexpensive assessment can be for your future business.  Click for Assessment info. Or, to keep up on trends, subscribe to our weekly podcasts and posts on trends and how they will affect the world of business at www.SparkPartners.com
Give us a call or send an email.  Adam@sparkpartners.com 847-726-8465.