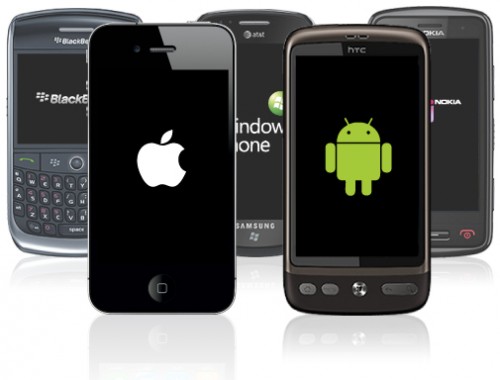 For most consumers an Android-based phone from one of the various manufacturers, most likely bought through a wireless provider if in the USA, does pretty much everything the consumer wants.  Developers of most consumer apps, such as games, navigation, shopping, etc. make sure their products work on all phones.  For that reason, the bulk of consumers are happy to buy their phone for $200 or less, and most don't even care what version of Android it runs.  As a stand-alone tool an Android phone does pretty much everything they want, and they can afford to replace it every year or two.
But the business community has different requirements.
And because iOS has superior features, Apple continues to dominate the enterprise environment:
All iPhones are encrypted, giving a security advantage to iOS. Due to platform fragmentation (a fancy way of saying Android is not the same on all platforms, and some Android phones run pretty old versions) most Android phones are not encrypted.  That leads to more malware on Android phones.  And, Android updates are pushed out by the carrier, compared to Apple controlling all iOS updates regardless of carrier.  When you're building an enterprise app, these security issues are very important.
iOS is seamless with Macs, and can be pretty well linked to Windows if necessary for an apps' purpose. Android plays well with Chromebooks, but is far less easy to connect with established PC platforms. So if you want the app to integrate across platforms, such as in a corporation, it's easier with iOS.
iPhones come exactly the same, regardless of the carrier. Not true for Android phones. Almost all Androids come with various "junkware."  These apps can conflict with an enterprise app.  For enterprise app developers to make things work on an Android phone they really need to "wipe" the phone of all apps, make sure each phone has the same version of Android and then make sure users don't add anything which can cause a user conflict with the enterprise app.  Much easier to just ask people to use an iPhone.
iOS backs up to iCloud or via iTunes. Straightforward and simple. And if you need to restore, or change devices, it is a simple process. But in the Android world companies like Verizon and Samsung integrate their own back-up tools, which are inconsistent and can be quite hard for a developer to integrate into the app. Enterprise apps need back-ups, and making that difficult can be a huge problem for enterprise developers who have to support thousands of end users.  And the fact that Android restores are not consistent, or reliable, makes this a tough issue.
Search is built-in with iOS. Simple. But Android does not have a clean and simple search feature.  And the old cross-platform inconsistencies plague the various search functions offered in the Android world.  When using an enterprise app, which may well have considerable complexity, accessing an easy search function is a great benefit.
Most of these issues are no big deal for the typical smartphone consumer who just uses their phone independently of their work.  But when someone wants to create an enterprise app, these become really important issues.  To make sure the app works well, meeting corporate and end user needs, it is much easier, and better, to build it on iOS.
This allows Apple to price well above the market average
Today Apple charges around $800 for an iPhone 7, and expectations are for the iPhone 8 to be priced around $1,000.  Because Apple's pricing is some 4-5x higher, it allows Apple's iOS revenue to actually exceed the revenue of all the Android phones sold!  And because Android phone manufacturers compete on price, rather than features and capabilities, Apple makes almost ALL the profit in the smartphone hardware business.  Even as iPhone unit volume has struggled of late, and some analysts have challenged Apple's leadership given its under 20% market share, profits keep rolling in, and up, for the iPhone.
By taking the lead with enterprise app developers Apple assures itself of an ongoing market.  Three years ago I pointed out the importance of winning the developer war when IBM made its huge commitment to build enterprise apps on iOS.  This decision spelled doom for Windows phone and Blackberry — which today have inconsequential market shares of .1% and .0% (yes, Blackberry's share is truly a rounding error in the marketplace.)  Blackberry has become irrelevant. And having missed the mobile market Microsoft is now trying to slow the decline of PC sales by promoting hybrid devices like the Surface tablet as a PC replacement.  But, lacking developers for enterprise mobile apps on Microsoft O/S it will be very tough for Microsoft to keep the mobile trend from eventually devastating Windows-based device sales.
As the world goes mobile, devices become smaller and more capable.  The need for two devices, such as a phone and a PC, is becoming smaller with each day.  Those who predicted "nobody can do real work on a smartphone" are finding out that an incredible amount of work can be done on a wirelessly connected smartphone.  As the number of enterprise apps grows, and Apple remains the preferred developer platform, it bodes well for future sales of devices and software for Apple — and creates a dark cloud over those with minimal share like Blackberry and Microsoft.