24×7 Wall Street just released its fourth annual analysis of the worst companies to work for in America.  By looking across all four reports it is possible to identify likely problems which will be valuable for investors, employees (current and prospective,) suppliers and communities to know.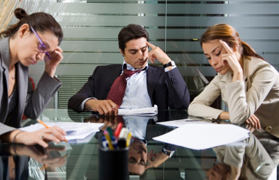 Trend 1-  Low minimum wages & "Wage gap" issues remain a big deal
The lists are dominated by retailers.  Of the 30 unique companies identified, exactly half (15) were retailers.  A handful were on the list 2 or more years.  Consistently these employees complained about low wages.
By paying minimum wage, and often refusing to hire employees full time, the companies keep costs of brick and mortar store operations lower.
However, this takes a toll on employee morale as overall pay does not meet minimum living standards. Further employees feel heavily overworked and stressed, while having no job security.  Often this leads to employee unhappiness with senior management, frequently offering low evaluations of the CEO – who makes 1,000 times their annual earnings.
As employees fight for higher wages, and a reduction in the "wage gap," it will apply pressure to the sustainability of these retailers who rely on very low pay to maintain (or enhance) profits.  The trend to a higher minimum wage will challenge profit growth – or maintenance – in these companies.
Trend 2 – Employees often "see change coming" and become negatively vocal
Jos. A Banks jumped onto the list as #4 in 2013.  Just before a major shake-up and being acquired by Men's Wearhouse.  Family Dollar also appeared on the list in 2014 (#9,) only to be embroiled in a takeover battle with Dollar General, and finally aquired by Dollar Tree within 7 months.  Office Max appeared on the list (#5) in 2012, and was acquired by Office Depot 8 months later.  And, of course, Radio Shack made the list in 2012 (#3,) 2013 (#5) and 2014 (#11) only to file bankruptcy in 2015.
Employees can see when something bad is impending, likely jeopardizing their livelihoods, and start talking about it.
Similarly, growing internet threats are often picked-up by employees.   hh Gregg employees started complaining loudly in 2014 (#8) as their 100% commission compensation became threatened by a growing Amazon.com.  And that same year Books-A-Million was #1 on the list, as part time staffers saw the same advancing Amazon.  And in 2012 Game Stop (#10) employees could see how the advancing Netflix and Hulu threatened the "core business" and started to light up the complaint section.
Trend 3 – Ignoring employee unhappiness while focusing on earnings can portend a disaster
Sears and KMart (collectively Sears Holdings) made the list in 3 of the 4 years.  The stock was $66 in June, 2011, and $55 in 6/12 when it made #6.  By 6/13 it had declined to $39, and made the list at #7.  Starting 6/14 the stock was reasonably flat, and missed the list.  But then in 6/17 the stock fell to 27 and reappeared twice – as both Sears and KMart.
Employees have consistently expressed their dismay with CEO Ed Lampert, and 80% actively dislike his leadership.  After the Radio Shack experience, there is ample reason to listen more to these employees than the CEO who keeps promising a turnaround – amidst a long string of large quarterly losses and declining sales.
But this also opens the door for looking at some stocks that have defied employee unrest.  Dillard's made the list all 4 years.  In 2012 the stock rose from $54 to $66, yet appeared #2 on the list.  In 2013 the stock rose to $85 as it made the list #3. 2014 the stock made it to $119, and was sixth.  In 2015 the stock peaked at $149, but has recently declined to $111 as it made the list #2.
Similarly Express Scripts rose from $53 in 2012 to $62 in 2013 when it appeared on the list in position #2.  In 2014 it rose to $71 as it remained #2.  And it 2015 the stock is at $85 as it topped the list #1.
It would be worthwhile to look at the clues employees are sending.  Express Scripts employees are loudly complaining (louder than literally any other company) across multiple years of being overworked, overstressed, underpaid and without any job security.  As are Dillard's employees, who are the most outspoken in retail.  How long will profit improvements be sustainable in these companies?
While the data is less clear on Dollar General, it appeared on the list as #4 in 2013.  Then Family Dollar appeared on the list as #9 in 2014.  Dollar General subsequently tried buying Family Dollar, and reappeared on the list as #10 in 2015.  What are employees saying about the sustainability of the "dollar store" segment in a very tough retail market with growing internet competitors?
Any CEO can slash employee costs and payroll for a few years, but at some point the model simply collapses – aka, Sears Holdings and Radio Shack.  Or there is a loss of identity as suffered by Office Max, Jos. A Banks and Family Dollar.  It would be worthwhile for anyone to listen carefully to the feedback of these employees before investing in company equity, investing one's livelihood as an employee, investing one's resources to be a supplier, or investing one's tax base as a community official.
There are a number of "one off" issues on the list. Companies appear once primarily due to bad CEO performance (Xerox, #5 this year, HP #8 in 2012 as the revolving door on the CEO office reached a high pitch.)  Or due to some change in market competition.
But it is possible to look through these issues – which could become future trends but show limited insight today – to see that an aggregated employee view of leadership offers insights not always found in the P&L or management's discussion of earnings.  If you choose to put your resources into these companies, be aware of the risks warnings being sent by employees!
Please refer to the 24x7WallStreet.com site for deeper information on how the list was compiled, who is on each list, and their editor's opinions of employee comments. 24×7 list in 2015 – 24×7 list in 2014 – 24×7 list in 2013 – 24×7 list in 2012